Sports Court Floor & Line Marking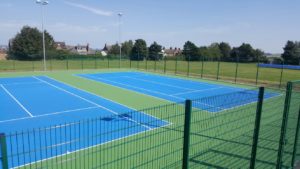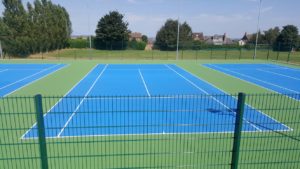 Enjoy playing sports to the max? Here at Gilvar Lining Ltd we can help maintain the life of your sports court and keep it looking its best for you. Whether you are a leisure centre, public school or are in the private sector, we will be able to provide you with a precise and reliable service.
You may be planning a refurbishment of an existing court or planning a new build, we will be able to offer insight and guidance throughout the project, and will work with others to get the best finish for your sports court.
Types of Court Markings
We are well known providers of:
Netball court markings
Basketball court markings
Hockey line markings
Tennis court markings
Football ground markings
Volley ball Court markings
Why Choose Gilvar Lining Ltd?
Gilvar Lining Ltd has provided accurate and high-quality marking services for 42 years across various public sectors, including education, sports, employment and more. No matter how small or intricate your project is, we can guarantee outstanding results every time. We produce a high-quality standard of work using state-of-the-art technology to create professionally painted markings that will withstand the test of time. Clean and clear markings are imperative on sports courts to enhance the enjoyment of participants and ensure that everyone adheres to the rules. Our sports markings are durable and can withstand heavy traffic.
We have a highly-skilled team of professionals with extensive experience producing superior workmanship. We pride ourselves on delivering exceptional customer service integrated with years of experience, which allows us to offer a bespoke service tailored to your requirements. We operate professionally and go above and beyond when undertaking projects from start to finish.
Get in touch
Get in touch with our dedicated support team for a FREE no-obligation quote today! We offer competitive prices on all of our services that will maximise the potential of your site. If you have any questions, don't hesitate to constant us, as we would be happy to help.
Tel: 01283712450 Email: sales@gilvar.ndo.co.uk
Contact us today for further information on the types of sports court markings we can provide.