Most likely, you follow and abide by road markings every day. Whether you are a pedestrian, cyclist or motorist; whether it's on your commute to work or the school run, road markings are an essential staple of modern day life. We follow them and rely on them whilst barely noticing they are there. But there are some road markings which stand out a little more than others – so much you can't help but notice them. The team at Gilvar Linings decided to take a look at some rather more unusual road markings from the UK and internationally, and came up with some mind-boggling results. Take a look at our selection of the most weird and wonderful road markings from around the world below.
Simple Spelling Blunders
Sometimes it seems to be the simplest things which catch road painters out. Over recent years there have been a number of incidents where road painters have painted words on the road when maybe they should have checked a dictionary first. The Daily Express reported on one such incident in the West Midlands, when "KEEP CLAER" was painted on a road near Dudley in bold, stark white, before the painters realised their blunder. A local resident was able to see the funny side, reportedly commenting: "If you say it in a Black Country accent that's pretty much how it's pronounced!"Past road sign rookie errors including bus stop being written as "SUS STOP" and "BOS STOP" and no entry appearing as "NO ENTERT".
Perplexing Zig Zags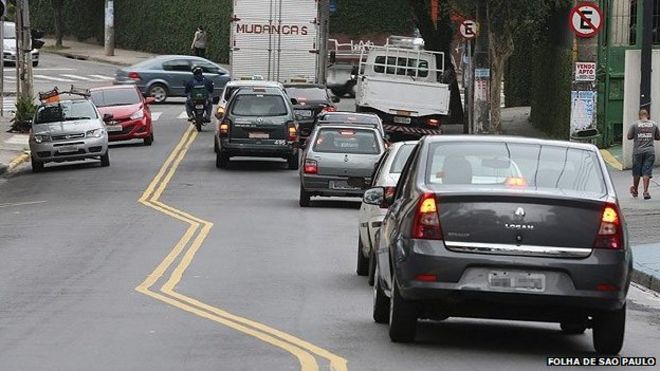 A little further afield, in Brazil, motorists were perplexed recently when a double yellow zig-zag line was drawn in the middle of the road. Whilst the line pictured may look like the road painter was having trouble seeing straight, the local transit authority confirms that these markings meet regulations and supposedly expand to allow drivers extra room. Local motorists complained, saying: "It's very confusing, and the traffic is worse" and "Whoever did this was drunk."
Juxtaposition Junction
We're sure that North London drivers will always try to follow the Highway Code, but on Stamford Hill the road markings make it a little more difficult. Last year, new markings were added which appeared to firstly give drivers the option to turn into oncoming traffic and then to encourage them to drive straight into a roundabout. Essex motorist Paul Wood spotted the indiscretion, saying "I almost followed the broken lines – it was a case of 'what's happened here?' I did a double take." The Daily Mail reported on this, confirming that a spokesperson for Transport of London had explained that these road markings were temporary and left on in error. It could have been a dangerous mistake to make!
Follow The Lights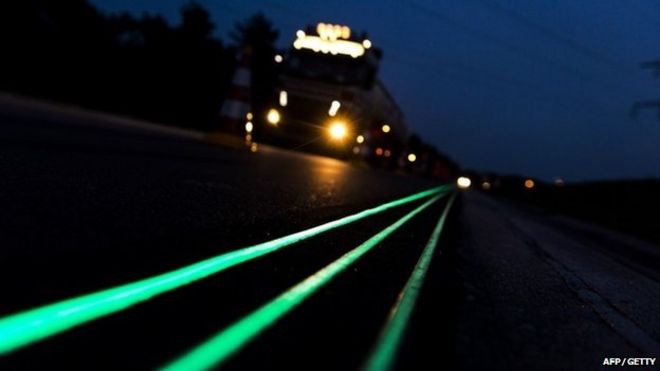 It isn't all about messy mistakes and misleading markings – there are some people out there developing truly innovative ways to mark our roads. The Dutch are set to become the first ever nation to unveil glow-in-the-dark road markings this month, with the help of Dutch construction company Heijmans. Lines have been drawn on a highway in the Netherlands with paint which contains a photo-luminescing powder. It charges by absorbing daylight and then emits a green glow during the night time which can last for up to eight hours. The technology is being officially launched later this month, and it is believed that it will help save energy as it will provide enough light on the road to eliminate the need for street lights, allowing governments to switch off their traditional lighting.
If the project is a success, the innovative Dutch team hope to develop their technology further, creating giant weather symbols which will appear on the road, alerting motorists to the current conditions and helping people interact with technology in a practical and efficient manner. It is hoped to eventually expand internationally, so you could be experiencing the benefits of these luminescent roads closer to home before you know it!
Gilvar Lining Ltd specialise in designing and painting high-quality, professional markings for roads, car parks, hospitals and much more. With over 20 years' experience in the industry, you won't find any schoolboy errors when you come to us! Contact the team today to find out more.